Adopt a Greyhound This Christmas
Dec 15, 2021
With Christmas fast approaching, hundreds of families are considering buying a puppy for their children over the coming weeks and preparing to spend thousands of dollars on designer dogs.

Greyhound Racing SA (GRSA) is calling on families to instead consider adopting or fostering a greyhound over Christmas, sharing their love with a retired racer looking for a home.

GRSA and Greyhounds As Pets (GAP) will be holding a Foster and Adoption Day at its Angle Park headquarters on Saturday, December 18.

GRSA CEO Matt Corby said the Foster and Adoption Day would provide an opportunity for people to meet retired greyhounds and talk about how they could make a great addition to any home, as well as foster and adopt on the day too.

"Buying a dog is a massive decision and commitment, and it's hard to know what that puppy might be like and how your family will respond to it," Mr Corby said.

"We also realistically know there are hundreds of dogs which are given as Christmas presents but end up abandoned by February and March because they haven't gelled with the children or might have been an unwanted surprise.

"Our GAP program allows fosterers or adopters to meet a greyhound, learn about its personality, and potentially decide if it will suit their family. Our foster program also allows families to take a greyhound home and see how it fits within a particular family environment, with the option to permanently adopt if things work out."

"It's not too late to remind people that buying or adopting a pet of any kind is a lifetime commitment, not just a festive whim."

Mr Corby said GAP was the cornerstone of GRSA's welfare strategy, with South Australia being a national leader in terms of its commitment to rehoming.

He said that, in South Australia, "the sport embraces its obligation to find homes for all greyhounds which could be responsibly re-homed, with more than 400 greyhounds adopted in the past year. "

All greyhounds involved in the South Australian racing framework – whether raced or unraced, bred locally or imported – must be afforded the opportunity to be rehomed.

"We know greyhounds make great pets in retirement and they love affection and to relax in a comfy bed, like my own adopted greyhound, Flora," he said.

"All greyhounds which go through GAP are tested for temperament suitability by accredited assessors in line with standards prescribed by the Dog and Cat Management Board – and the Green Collar we issue is a gold standard widely-recognised by participants and the general community.

Every GAP foster carer is supported by GRSA's provision of beds, bowls, collars, leads, wet and dry food and a weekly subsidy. Essentially, all that is required from those who take a greyhound home is affection, patience and some basic training.

"People don't often realise it, but greyhounds are very gentle creatures who love to snuggle up on their beds and just watch the world go by. They make fantastic family pets."

If potential dog owners needed a reason to adopt or foster a greyhound, here are 10 things to consider:

1. Greyhounds don't have a doggy smell, they have a short coat that rarely sheds, they rarely bark and don't need much room or exercise.
2. There is a continuous supply of non-racing or retired greyhounds that need to find homes. Fostering a greyhound will help get them ready for their fur-ever home.
3. You will be part of an ever-growing community. There is a growing number of online groups which share our love for greyhounds. Check out GAP SA's Facebook Page.
4. Having a greyhound will give you some insta-worthy cred. You will probably join the hundreds that have created an Instagram account for their greyhound and start using hashtags such as #instagrey and #greyhoundsofinstagram.
5. Fostering a greyhound is temporary. You'll typically have a pooch for six weeks before they get matched with their adoptive home, allowing you to commit to your travel and other commitments without needing to worry about who is looking after the dog.
6. We know some of you will fall in love, and don't worry, you are able to adopt your hound if you wish. There is a term we have coined for this. It's #fosterfail…
7. You will learn a lot from a greyhound about life, especially the importance of eat, sleep, repeat.
8. Kids will learn the responsibilities of having a pet such as cleaning after the dog and taking them for walks. Consider it as a trial run.
9. You will become a celebrity in your neighbourhood. Go for a walk with your greyhound and you will inevitably be stopped – numerous times over. 10. We make it very hard for you to say no. You are given everything you need to foster a greyhound AND you get a weekly reimbursement for your efforts, so it's a win/win.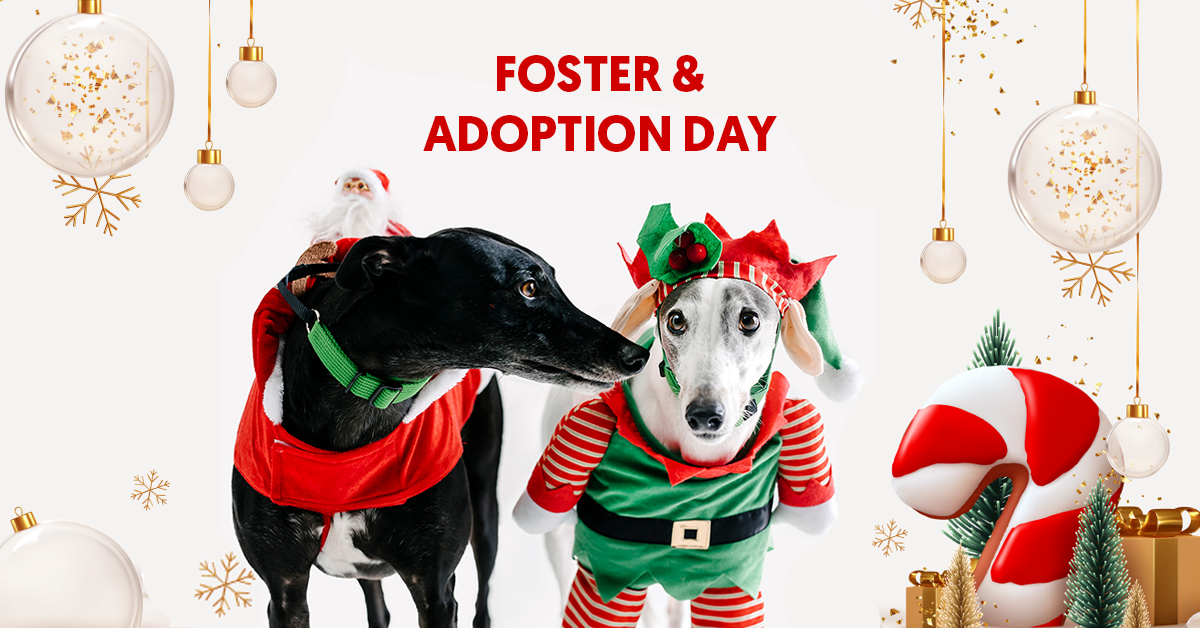 When: Saturday, 18 December 2021, 1pm – 3pm

Where: Greyhounds As Pets office,
Angle Park Racecourse
55 Cardigan St, Angle Park

To register for this event, please head here: https://gapsa.org.au/events/foster-adoption-day/
From there, you can also peruse through all of the wonderful greyhounds we will have on the day.
We'll see you there. MERRY CHRISTMAS!
Back to all news