You now have the opportunity to apply for the greyhound that you wish to foster or adopt, rather than applying and us matching you with a greyhound.
New greyhounds available for foster and adoption will be uploaded on Monday's and Wednesday's at 5pm weekly!
Please only apply for 1 greyhound per day. If you do apply for multiple greyhounds in one day, only your first application will be considered.
Here at the Greyhound Adoption Program, we have successfully rehomed over 2800 retired or unraced greyhounds in SA in the last 5 years! In that time we have been utilising a time and effort intensive matching process to find the best homes for the greyhounds in the GAP SA program.
With more and more applications coming in for these beautiful greyhounds, this matching process is becoming more time consuming.

We recently reviewed our processes and it has given us an opportunity to look at if our matching process is really the most efficient it can be for the GAP team, our dogs and our applicants. After a thorough review, we have decided it is time for a change! We are giving you the opportunity to apply for the greyhound that you wish to foster or adopt, rather than applying and us matching you with a greyhound.

Once you have applied, we will check your information and home situation which will enable us to see whether the greyhound you wish to foster or to adopt is suitable for you. Should you not be successful on your first application, all you need to do afterwards is visit our website and select another greyhound, rather than filling out a new application form each time.
So what does this mean for you?
You will need to apply via our website for a specific greyhound you are interested in fostering or adopting. We are no longer accepting general applications. Since we have eliminated the matching process, we will no longer be providing generic updates on where your application stands. However, we will always give you feedback on the outcome of your application for a specific greyhound.
Our Foster and Adoption Officers will assess your application and decide whether the greyhound will be suitable for you within 48 hours. We will no longer be matching greyhounds with previous applications that have been submitted.
We will still be utilising the same suitability criteria to ensure you can see if your family environment suits the greyhound's requirements. You will be able to see which greyhounds are the right fit for you.
If you are unsuccessful on your first application, then please apply for other greyhounds on the website. We keep your application on file and for every consecutive greyhound, you will only have to click the "Already have an application? Click here" button and provide basic contact details.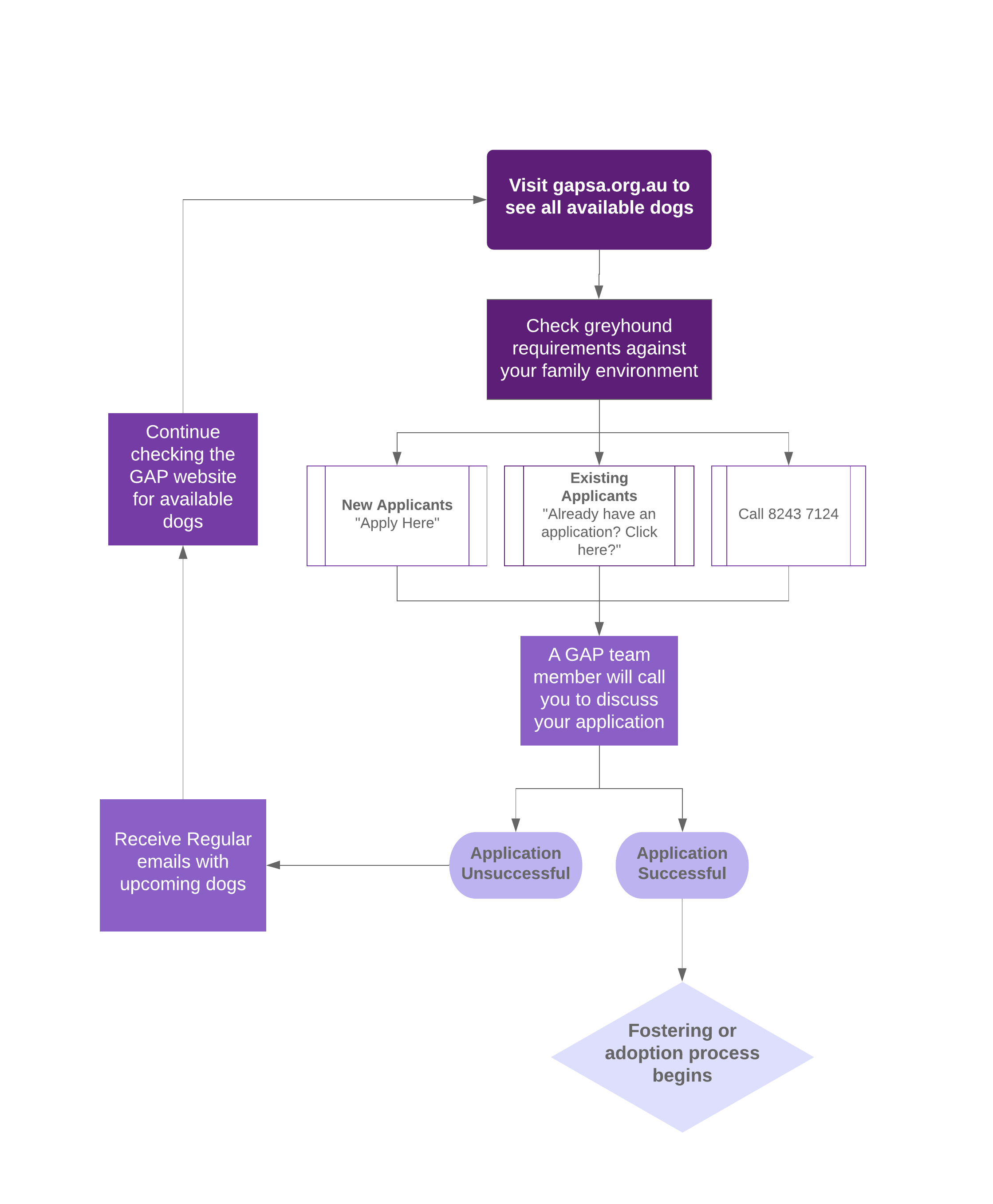 We will continue to provide you with more information into the lead up to the change in our processes. Please direct any questions to gap@grsa.com.au or speak with your Foster and Adoption Officer.