GAP SA GETS A NEW BRAND FOR CHRISTMAS
Dec 10, 2020
As of today, December 10th, the Greyhound Adoption Program SA will be rebranded to Greyhounds As Pets. This rebrand better fits the organisation which not only adopts, but also foster greyhounds, as well as educating new owners and promoting the fact that greyhounds make great pets.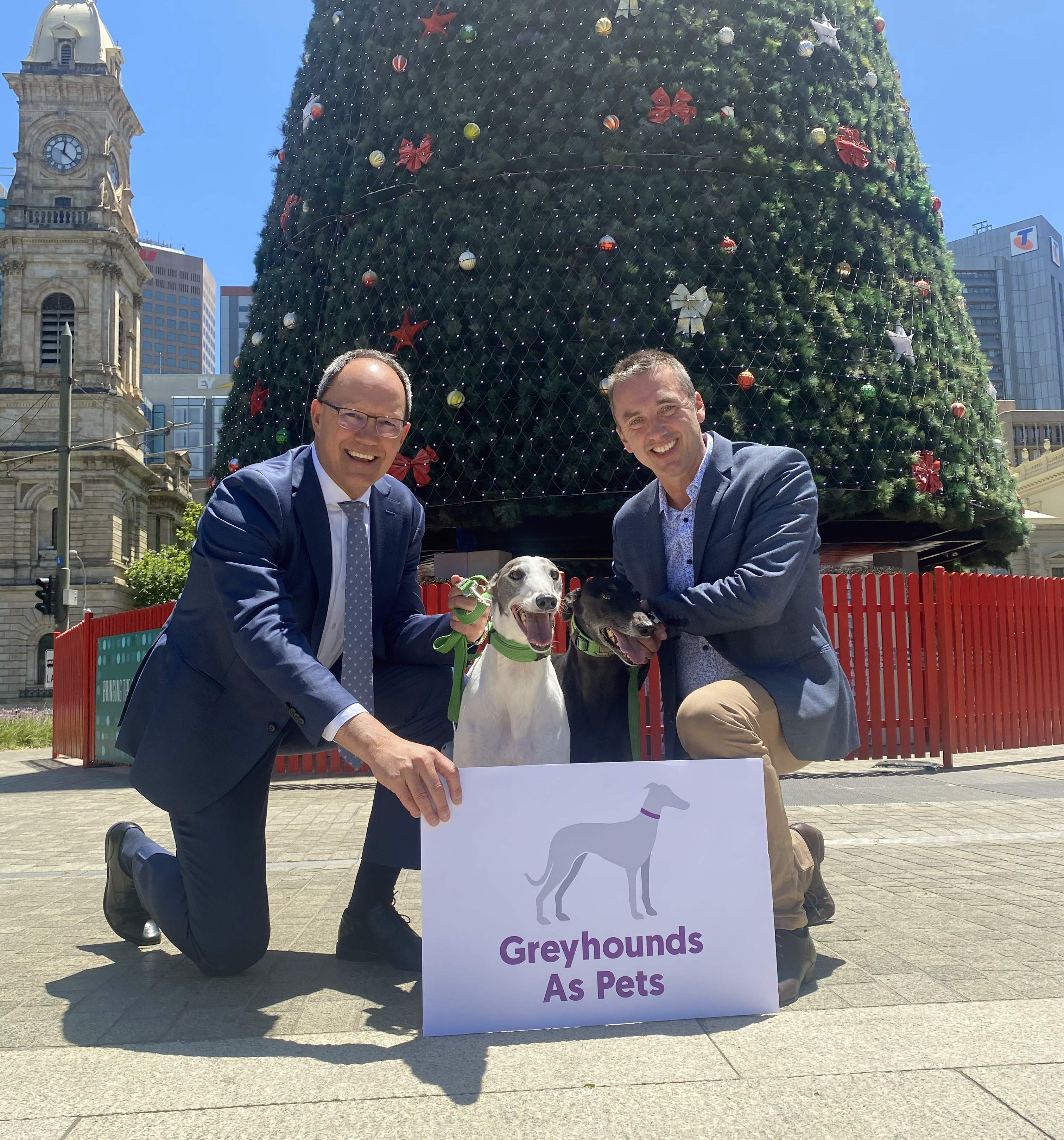 Greyhound Racing SA CEO Matt Corby feels the new name will help the organisation to continue to best support a South Australian community that loves, understands and appreciates the greyhound breed, with almost 3,000 greyhounds being adopted in South Australia since 2015.
"As an organisation and community, we are very excited to rebrand as Greyhounds As Pets, as it is a more intuitive way to describe the core purpose of what we do." Explained Mr Corby.
"Our communities across the state are quickly learning how amazing greyhounds are as pets for all walks of life. You only have to go for a walk or drive around the suburbs and you will see these beautiful greyhounds everywhere."
Minister Wingard was on hand today to help launch the Greyhounds As Pets rebrand with Matt Corby, his greyhound Flora and Skye the greyhound.
"Greyhounds are wonderful, affectionate dogs and make great pets." Minister Wingard said.
"I'm a great supporter of the Greyhounds As Pets initiative and the fantastic work this organisation does to transition greyhounds from their racing career to their retirement."
As families look toward getting a pet for Christmas, greyhounds are becoming a popular choice due to their affectionate nature, being known as 'couch potatoes' and at a nominal cost of $150 to adopt. If families are looking to foster there is no cost and support payments are provided to the family. Greyhounds As Pets always asks families to thoroughly consider before adopting as pets are a lifelong commitment.
If you are looking to foster or adopt a greyhound please see which greyhounds we have available.
Back to all news