Greyhounds are for life
Dec 11, 2019
Waking up on Christmas morning knowing that you have the present under the tree that will make you the parent of the year can be one of the best feelings. You have been hearing the "can we get a puppy?" "Why don't we have a dog" for a while now and have finally decided to give in.
So, in the family room, you have a little surprise that will change your family and create so much joy this Christmas morning! But, what happens after Christmas? As much as you have explained to the kids about the responsibilities of having a pet, is it something that they truly understand? What happens when the excitement wears off and it is all about who is picking up the poo, feeding and walking the dog?
Christmas is a time when lots of people decide to get a new pet to give as a gift. While it may seem like a great idea, the reality of the time and financial commitment is often not something that is thought about. This is why there are suddenly so many more dogs surrendered to rescue shelters in the months following Christmas.
When you take on a pet you are taking on a commitment for the lifetime of that animal. Greyhounds have an average life expectancy of 10 – 14 years, which means even if you adopt a greyhound when they are 2 years old they can live for another 12 years. This can be the best 12 years as the companionship can be second to none, but a lot of life changes can occur during these 12 years and your pet shouldn't be the one to suffer as a result.
So if you decide to grow your family this Christmas be sure that it is a commitment that you are willing to make for many more Christmases to come.
If you're ready to welcome your new family member, visit the Foster and Adopt pages to find out more!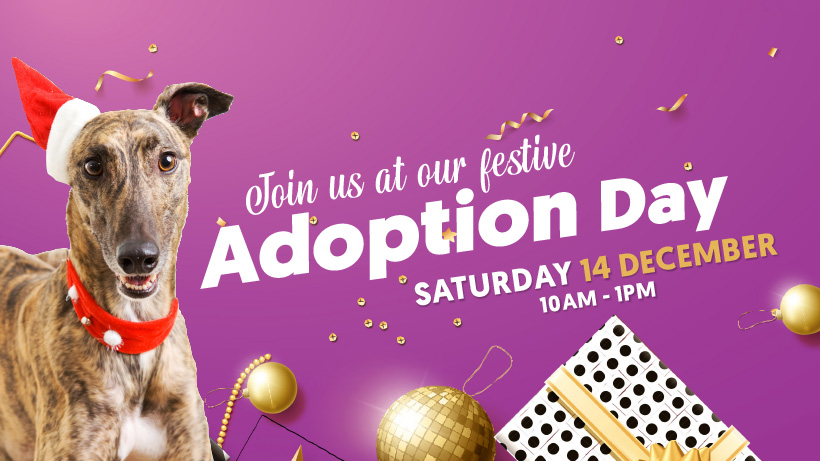 Back to all news