New Process FAQs
Oct 13, 2020
We know a knew process can be confusing that is why we have put together a list of FAQs to assist you in navigating it.
Will all dogs be advertised on the website?
Yes, but not all at the same time. We will gradually advertise all dogs, and new dogs will be posted twice a week - on Monday and Wednesday evenings.
Can I apply for multiple dogs?
Yes, however, you will be able to apply for only one dog each day. Please keep checking our website and apply until you find the right greyhound.
Will you prioritize older applications? (If there are two families that are equally suitable, will you choose the one that has an older application?)
Yes. If two families have the same requirements and the greyhound is equally suitable for both of them, we will prioritize the older application. The reason for that is the fact that we have a very long list of families waiting for a greyhound at the moment.
How can I increase my chances to get a greyhound?
Please do keep checking our website. Some applicants need to wait a bit longer until the greyhound with a suitable temperament comes around (e.g. families with cats, small children, etc). If you check in regularly and keep applying, you will have a higher probability to find a suitable greyhound sooner.
How often will GAP update me on my application status?
As GAP no longer matches applications against a list of greyhounds, there will be no more generic application updates. Please keep checking the list of available greyhounds on our website and apply for the greyhound that you think will be suitable for your circumstances. GAP then will be in touch with you within 48 working hours and inform you whether the greyhound is the right one for you.
Why do I have to keep applying if I already have an application?
You do not have to fill in another application form if you have already applied. All you need to do is click on the "Already have an application? Click here" button, which will automatically notify GAP who will then be able to have a look at your existing applicaton.
Want to find out more about how the application process, click here. Otherwise if you are ready to start finding a greyhound for your family view greyhounds available for foster and adoption.
Please direct any questions to gap@grsa.com.au or speak with your Foster and Adoption Officer.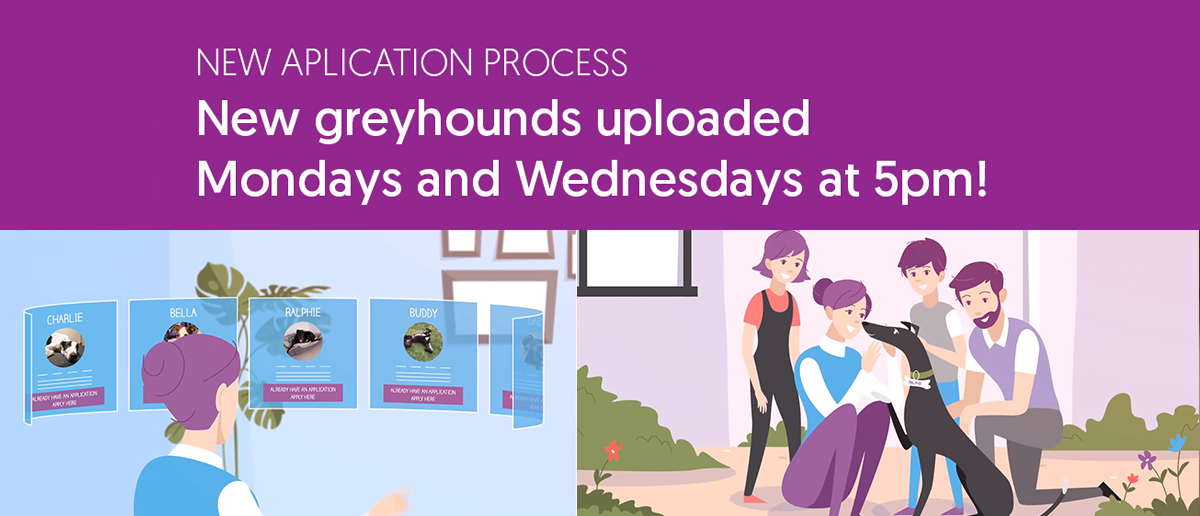 Back to all news